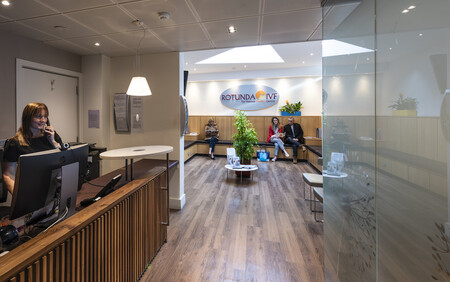 Rotunda IVF clinic
Rotunda IVF
The National Fertility Centre
Rotunda Hospital, Parnell Square, Dublin 1, Ireland
Tel: +353 1 807 2732
Email: info@rotundaivf.ie
Fax: +353 1 633 5948
The Rotunda IVF fertility clinic is conveniently located near the centre of Dublin and provides access to fertility services and IVF treatment for couples and individuals across Ireland.
At Rotunda IVF we offer a comprehensive range of fertility tests and treatments from the very simple such as ovulation induction or IUI, to the most complex such as IVF and ICSI as well as access to some of the most advanced reproductive technology such as Embyroscope.
Our experienced fertility specialists offer personalised treatment plans backed by leading research and technology which ensures we consistently achieve world class success rates.
Services at this location
Fertility testing – We offer comprehensive screening tests to assess both male and female fertility before developing a personalised treatment plan.
Fertility treatments – We offer a range of fertility treatments including ovulation induction, artificial insemination, IVF and ICSI
Fertility preservation – Our fertility preservation programme offers women and men the opportunity to conceive a child in the future, by saving or protecting eggs, sperm or reproductive tissue.
Donor programme – A supportive donor program to assist people needing donor sperm or donor eggs to have a baby.
Location / Opening hours

Address
Rotunda IVF
The National Fertility Centre, Rotunda Hospital
Parnell Square, Dublin 1, Ireland

Opening hours
Monday-Friday 8am–4pm
Saturday 9am–12pm (for scheduled cases only)

Directions

Rotunda IVF is located on the grounds of the Rotunda Hospital with a private access from Parnell Square East, adjacent to the Gate Theatre.

By Car:

The AA provides a route free planner for anywhere in Ireland. Plan your journey from your place of origin to Rotunda IVF here http://www.aaroadwatch.ie/routes/

By Bus:

There are many bus routes that stop near the hospital. For more information please visit http://www.dublinbus.ie/. All Bus Eireann buses end of Busaras bus station which is a 10 minute walk from Rotunda IVF.

By Train

Connolly Stations is a 15 minute walk for DART and suburban train users. There is a Luas red line stop outside Heuston Station; the nearest stops are Parnell and O'Connell Street.
Enter an address to be localized.